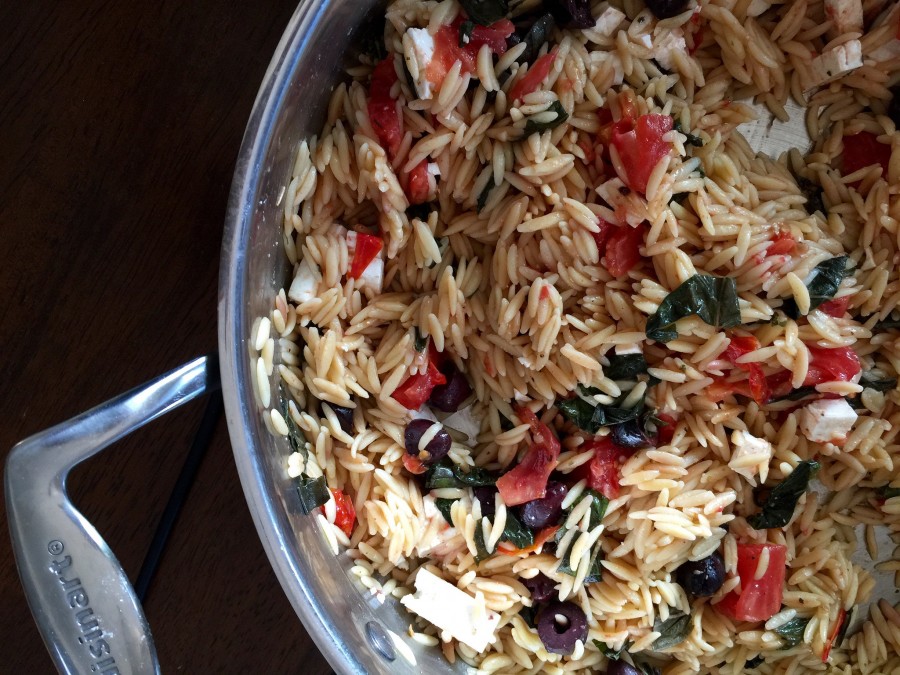 Saying goodbye to summer is never easy, especially when you live at the Jersey Shore. This summer in particular was picture perfect. The weather was never too hot for too long, the water was crystal clear and there were no signs of jellyfish until the last week of August. What more could a Jersey girl ask for?
If you're like me, fresh Tomatoes and Basil are what summer is all about. I make sure both are planted in my backyard and make good use out of every last bite. This recipe is my "go to" recipe during the summer. I believe I got it off the side of a Ronzoni box years ago. Hey, don't judge. Some very good recipes can be found that way.
It's a great side dish for fish, chicken, anything really and the leftovers are great hot or cold.
2 Tablespoons Butter
1 1/3 Cups (8 oz) Orzo, uncooked
2 1/4 cups water
2 chicken bouillon cubes
1/2 teaspoon dried Italian seasoning
1/4 teaspoon garlic powder
1 Cup chopped fresh tomato
1 Cup packed fresh basil
2 Tablespoons chopped Kalamata olives (I use just regular black olives)
1/2 cup crumbled feta cheese
In a large skillet over medium heat, melt butter, add pasta. Cook, stirring frequently until golden brown, about 3 minutes. Stir in water, bouillon and seasonings, heat to boiling, stirring to dissolve bouillon. Reduce heat, simmer uncovered 10 minutes. Stir in tomatoes and basil (I chop the basil) and cover. Cook 4 minutes or until almost all liquid is absorbed. Stir in olives and feta cheese. Serves 4, about 1 cup each.